Help save our trees!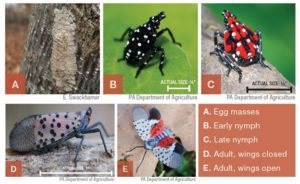 The Spotted Lanternfly has been spotted on our campus and we need your help! If you see this invasive bug, please kill it.
This bug is not a beneficial insect and will only harm or kill our trees. Unfortunately, the SLF (Spotted Lanternfly) has invaded Mercer and surrounding counties and could cause vast damage to our trees and landscape.
WHAT TO DO IF YOU SPOT THE SLF –
Attempt to kill the insect. They will not sting or bite you, so there is no reason to be afraid of them.
If you see multiple insects (more than 3 or 4 in one area), please call the Facilities office at 609-771-2353.
Take pictures! If you see multiple insects, please take a picture if possible and email it to facility@tcnj.edu. Please include the following info – date and time of the picture, location of the picture with as much detail as possible, and your contact info.
Report any sightings of egg masses (see picture). Contact Facilities at 609-771-2353 or facility@tcnj.edu Grounds will remove the egg mass to prevent more SLFs from infesting the campus.
We have placed several traps around campus to capture the 

SLF

. If you see them, feel free to look, but please do not touch the trap.
For more information on how the SLF affects our area, see the following links –
https://www.nj.gov/agriculture/divisions/pi/prog/spottedlanternfly.html
https://www.aphis.usda.gov/aphis/resources/pests-diseases/hungry-pests/the-threat/spotted-lanternfly/spotted-lanternfly
Thank you for you anticipated help!
Mike Weber
Manager of Grounds and Auto