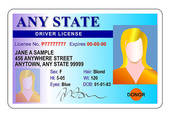 Any employee who wishes to operate any college owned fleet vehicle must first complete the Drivers' License Verification Form.
Employees are not allowed to operate college vehicles if they have suspended or revoked driving privileges. If an employee's license is suspended or revoked at any time for any reason, they are to stop driving college vehicles immediately and are obligated to report this to their supervisor and the Office of Risk Management.
Individuals with a Graduated Driver's License (GDL), learner's permit, examination permit, probationary/provisional license, or similarly restricted license, are not permitted to operate college vehicles.. If you are not an employee or have any of the aforementioned licenses or permits, do not submit a verification request.
Please note that New Jersey, Pennsylvania, and New York drivers should allow a minimum of one week to complete the verification process prior to operating or requesting to reserve any college fleet vehicle. License verification from states outside of New Jersey, Pennsylvania, and New York will take longer than the minimum time frame listed above. The time to complete the process through other states is beyond the control of the College.
The verification process needs to be completed annually (for the Office of Campus Police Services it is biannually) or if a license has expired by completing the Drivers' License Verification Form.
If you are not sure if your license has already been verified or if it is due to be verified again, please contact extension 2354.
Please send completed forms along with a photocopy of the driver's license to, Risk Management, located at the Facilities Maintenance Building. DO NOT EMAIL FORMS.