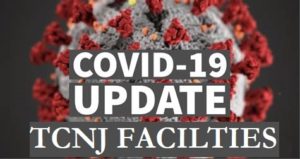 Cleanliness and good hygiene are the responsibilities of the entire TCNJ community. Together, we can work to ensure a clean, disinfected campus environment.
Facilities and Building Services will clean buildings occupied by faculty, staff, and students daily. In accordance with CDC recommendations, high-touch areas, including handrails and doorknobs, will be cleaned and disinfected a minimum of two times daily.  Meeting rooms in use during the semester will be cleaned daily and supplied with disinfectant wipes, and Sodexo will clean and disinfect campus dining facilities in accordance with CDC and New Jersey Department of Health guidelines.
Disinfectant wipes are available upon request for all departmental offices. Faculty and staff are responsible for cleaning and disinfecting high-touch surfaces (refrigerator handles, telephones, door handles, workstation, keyboards, etc.) within their work spaces daily. Disinfectant spray is also available to academic and administrative offices upon request. Hand sanitizer dispensers have been installed throughout campus, and personal bottles of sanitizer are available to everyone on campus.
Facilities and Building Services has implemented a rotating schedule for office cleaning to minimize in-person contact.  Please make sure to update your preferences with Facilities and Building Services if you plan to be in your office.
Detailed examples:
Private Office & Shared Office Spaces.  You are responsible for the daily cleaning and disinfecting for the items that you use.  Facilities will clean once a week.
Reactive COVID Cleaning and Disinfecting:
Persons with symptoms or who have tested positive and have been on campus in the last 7 days should call Facilities during normal business hours at 609-771-2353 to coordinate a response.  We will need to know if this is a shared space or a private office to determine appropriate response time-frame.
The following steps will be followed when a person who has tested positive has been identified in an on-campus location for more than 15 minutes.
The localized area where the person who tested positive was located for more than 15 minutes will be closed off for 24 hours.  A private office will have a seal placed on the door and no entry is allowed during this time-frame.
The HVAC air handling unit will be confirmed as operational and introducing as much fresh air as possible.
After 24 hours Facilities and Building Services will clean and disinfect the area. The area will then be reopened for use as normal.
If the person who tested positive has NOT been on campus within the last 7 days no additional cleaning and disinfecting is necessary.  Regular cleaning and disinfection activities will resume.
For additional information regarding this information, please visit:  https://www.cdc.gov/coronavirus/2019-ncov/community/disinfecting-building-facility.html